Hyrax master v2.0-alpha ( branch:
master
)
This Guide is maintained by Samvera's Repository Management Interest Group. Screenshots are taken from Nurax, a testing repository running on the latest release of Hyrax. Hosting is generously provided by Data Curation Experts. Please open an issue on our GitHub repository to request edits or additions.
Leases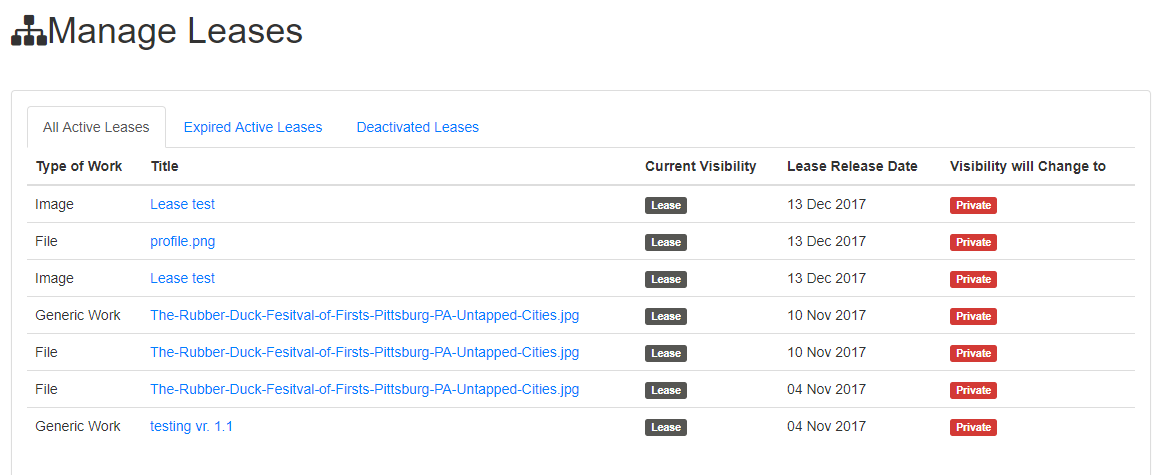 Leases do not automatically expire. Leases need to be updated manually.
To manage leases, go to repository-url/leases
The Manage Leases page contains three tabs:
All Active Leases: Works where leases are current
Expired Active Leases: Works where leases are expired but they are still available and access status has not been changed
Deactivated Leases: Works that are out of lease and access status has been changed
To deactivate leases:
Click the "Expired Active Leases" tab
Select works to release (optionally leave all files in lease state by unchecking the box "Change all files within work _ to _ status _ )
Click button "Deactivate Leases for Selected" or deactivate individually.
Embargoes

Embargoes do not automatically expire. Embargoes need to be updated and deactivated manually.
To manage embargoes, go to repository-url/embargoes
The Embargo management page contains three tabs:
All Active Embargoes: Works where embargoes are current
Expired Active Embargoes: Works where embargo dates have passed but they are still under embargo status
Deactivated Embargoes: Works that are currently out of embargo status and access status has been changed
To deactivate embargoes:
Click the "Expired Active Embargoes" tab
Select works to release (optionally leave all files in embargo state by unchecking the box "Change all files within work __ to _ status _ )
Click button "Deactivate Embargoes for Selected" or deactivate individually